Welcome

The Prince Albert Literacy Network (PALN) is dedicated to helping people increase their level of literacy and to promote and support family literacy in our community. To reach this goal, we have two areas of focus: Family Literacy and Adult Literacy.
Prince Albert Network, in collaboration with the Saskatchewan Literacy Network and many other stakeholders, have created to support families in the province. January 27th, 2022 has been, once again, set aside to celebrate Family Literacy in Canada.
Family Literacy Day is a national event started by ABC Life Literacy Canada in 1999. The theme this year is "Learning in the Great Outdoors." so we chose a book centred around learning from the land in Saskatchewan! On January 27th Bernice Johnson-Laxdal will share her stories about her childhood growing up around Île-à-la-Crosse, in northern Saskatchewan. We will also hear from Miriam Körner, who helped make this book and who drew the lovely pictures!
Join us at the Gateway Mall for Kick off to Family Literacy Day event at the Gateway Mall on January 22, 2022, 1:00 to 4:00pm. We will be joined by community organizations to host a self-guided, contact-free StoryWalk of the book, "When the Trees Crackle with Cold"!
Join us LIVE, as the province listens to a live reading, stories, and more from the authors and illustrator of "When the Trees Crackle with Cold." January 27th is Family Literacy Day in Saskatchewan. Pre-register at www.saskliteracy.ca/crackle and recieve a package of family friendly resources, join us in the day or watch the reading after available until Feb. 27th, 2022!!!
We provide:
FREE family and adult literacy programs
Training for literacy professionals
Workshops in the community
Resources and support to parents and those working with families in Prince Albert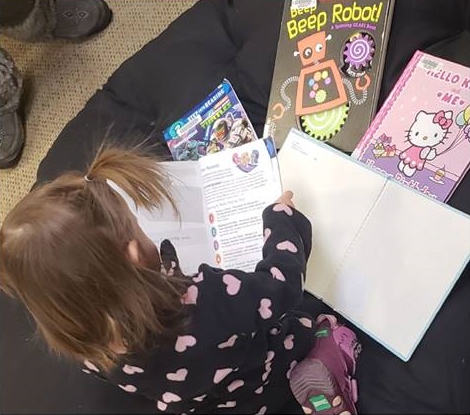 It's never too early
Children who begin life in a learning environment are more likely to succeed in school and in life. Parents are their child's first teachers. Our programs and resources provide parents with the tools they need to support their children's early language and literacy development.




It's never too late!
We also support adult learners on their literacy journey, building on strengths and meeting the individual needs of the learners.